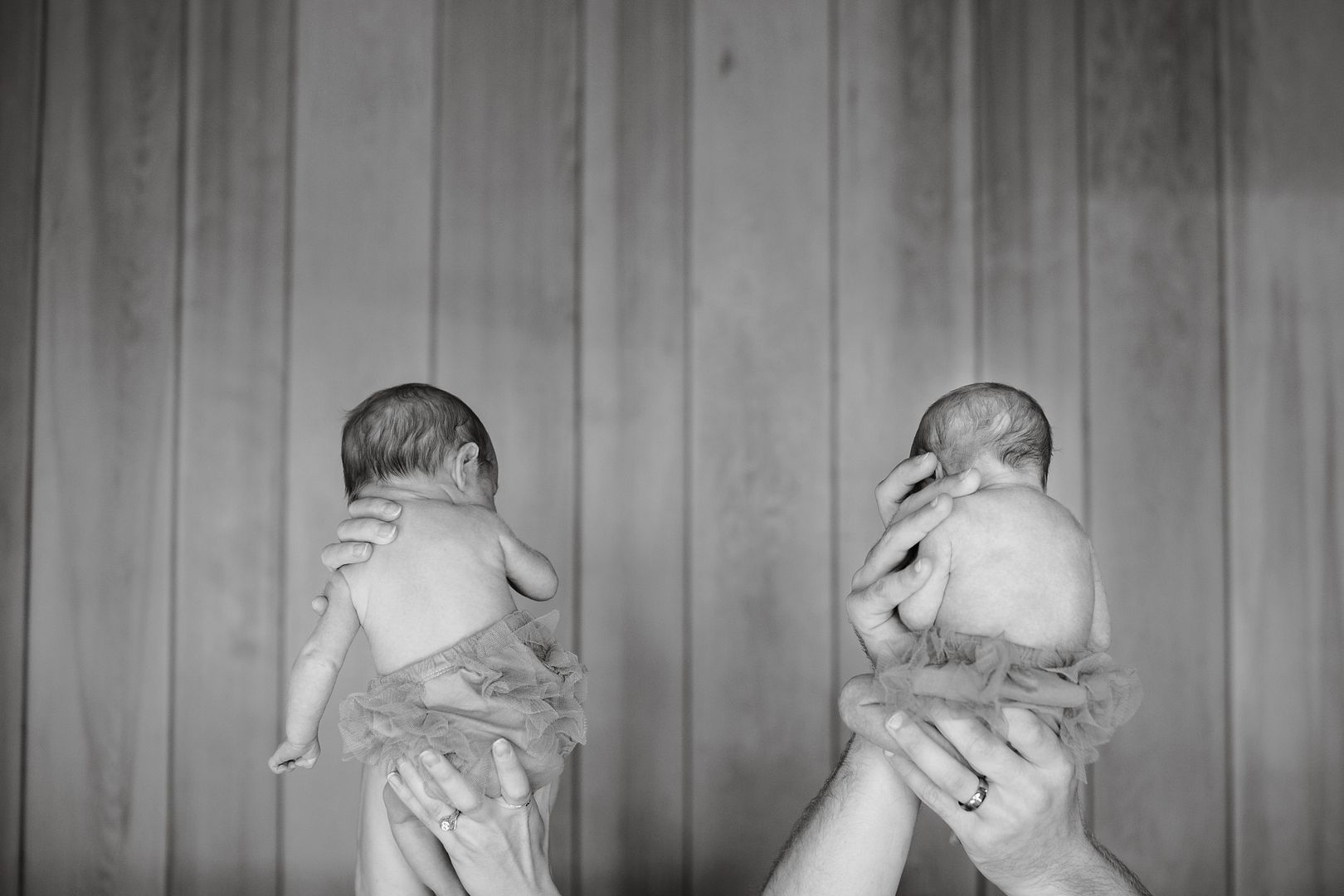 It's been awhile since I've posted. It took a couple months to get adjusted to these bitty babettes and being a new mommy but we're doing it. I mean, we get dressed sometimes.
I remember feeling as if I were going to be pregnant forever.
Tuesday September 23rd,
I was going into the hospital to be induced and the doctor was going to send me home and tell me that the girls would need to be in the womb indefinitely. T
he morning of induction day I sat in our kitchen window, hair done and makeup on, s
urfing the internet shopping for outfits I may one day get to wear again.
It seemed like days waiting for the noon o'clock check-in hour.
Jeff and I arrived at the hospital and were escorted to our room. We sat down in the corner together just the two of us in total silence. Neither of us had to say anything and knew exactly what the other was thinking. We were about to meet the babies we'd waited to meet for years.
The day was casual, Jeff set up the tv to stream movies and I got as cozy as I possibly couldn't on the hospital bed. The nurse was sweet and funny and put up with every bit of my fussing over the IV in my arm. After we settled in the nurse started the induction process. And then
we waited, for hours, visiting with family and watching babies heart rates. This process replayed itself two more times.
Ten hours of waiting and I was still dilated at a 0.
I'd eaten dinner and done just about everything I could to keep myself from ripping the itchy straps off my stomach, IV out of my arm and waddle home screaming "I knew that I wouldn't get to meet them yet". The nurse was allowed to give it one more shot before she had to put a call into the doctor for more extreme measures, then BAM! I went from lying on my back in total boredom to bouncing on a medicine ball
with a trash can next to me because I was going to lose the turkey dinner i'd eaten just before. I had extreme low back labor, Jeff used hot pads to push on my low back during each contraction. This lasted about 45 minutes until I was finally dilated to a 4, and the epidural was ordered. I was ecstatic that we made progress and trembling, literally. I'd never had shakes like that in my entire life. Once the epidural kicked in I was in better shape then when I walked in. I was able to relax in bed and look Jeff in the face. I told him to get into the diaper bag, I had a card for him. I wanted him to know how amazing he'd been throughout the entire pregnancy. I was so thankful to be pain free and to enjoy what was ahead. The nurse advised us to try and sleep, so we did.
It's time! The nurse popped in 45 minutes later to check my cervix and Macie had crowned. I had no idea! Because I was pregnant with twins, delivering in the operating room was mandatory. There was a 40% chance that I'd have to have a C-section on baby B if she flipped after baby A delivered naturally. My shakes returned when they wheeled me in the OR but they were worse; I was terrified.
The room was bright white, almost blinding at first.
I was introduced to two doctors and observed the eye's of nurses everywhere as most were covered from head to toe. The nurse I'd had for the last 9 hours was by my side and felt like my best friend. I remember thinking I wanted to grab drinks with her when I was normal again.
She coached me through every push and put Jeff in the passenger seat. After 45 minutes of pushing in absolute pain free peace, Macie was born at 3am, 5.5 lbs. Jeff and I couldn't stop staring at her as she lay on my chest. Baby B (Marlowe) had flipped and they were struggling to get her positioned. fortunately after 11 minutes of minor panic and heavy pushing, Marlowe was born at 3:11am, 4.12 lbs.
Our little family spent the next four days living inside the sweetest and mushiest happy little bubble of our own at the hospital. It felt as if there was no world outside of it. It was scary, exciting and extremely difficult and I'd do it all over again just to experience it one more time. Jeff and I have been together for 12 years and have never been as close as we are now.
Below I share some pictures to our story.